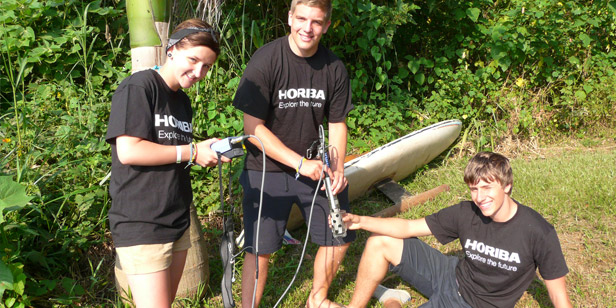 Molly Goddard (Westwood Academy), Joe Foreman (Stoke Park) and James Knights (Caludon Castle).
A Coventry school has linked up with its neighbour to secure sponsorship worth thousands of pounds and support a life-changing project inspired by London 2012.

The Westwood School, in Mitchell Avenue, has joined forces with Coventry Sports Foundation, which manages the neighbouring Xcel Leisure Centre, to support Africa Inspires.

Africa Inspires is a London 2012-inspired project led by Coventry Sports Foundation and supported by Coventry City Council's 2012 Games Team which aims to establish the provision of sport and PE in schools in the Ugandan capital, Kampala, and supply sustainable means of providing pupils with clean drinking water.

Westwood School raised around £3,000 in sponsorship for the project, including a water analysis kit, from Japanese world-leading analytical technology company HORIBA.
The kit was used recently to compare the quality of drinking water in the UK to that in Kampala when ten student ambassadors and teachers travelled to Uganda where they held a sports festival.

The project links five Coventry secondary schools - Caludon Castle, Lyng Hall, Stoke Park, Foxford and Westwood Schools along with five of their feeder primary schools – Wyken Croft, Stoke Heath, Stoke, Grangehurst and Cannon Park, with five Kampalan schools Nateete, Mutundwe, Kiddawalime, Bright Future and Family Primary.

Stuart Davoile, from Westwood School, said: "This project is fantastic for our students and it allows them to get some perspective on what is happening in the world.

"It is up to them to bring back their experiences and share them with their peers, because it has much more impact coming from them rather than a teacher.

"What they are doing can make a massive difference to the lives of kids out there and they have the opportunity to leave a fantastic legacy behind."

The schools have now entered the next stage of fundraising for the project which aims to see each schools raise £4,000 for water harvesting installations at their twinned schools.

Paul Breed, chief executive of Coventry Sports Foundation and Africa Inspires Project Ambassador, said: "We are delighted with the fundraising efforts of the Westwood School as well as the support of all the other partner schools and organisations.

"Without their hard work and commitment to this project it simply could not go ahead.

"Africa Inspires will be life-changing for hundreds of schoolchildren in both Kampala and Coventry and we are excited to be at the point where a number of our visions are becoming a reality."