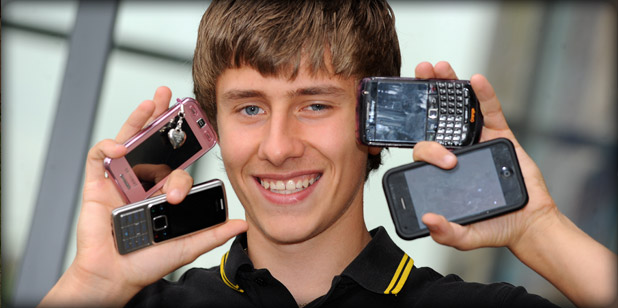 James Knights who has raised over £1,000 for the Africa Inspires project.
A Coventry school pupil found his calling when it came to raising funds for a life-changing London 2012-inspired project.

James Knights, 16, is one of 10 ambassadors from five Coventry secondary schools set to travel to the Ugandan capital, Kampala, in Africa next month (July) as part of the Africa Inspires Project.

The Coventry Sports Foundation-led project aims to establish the provision of sport and PE in schools in the African country and provide a sustainable means of providing its pupils with clean drinking water.

To help fund the latest section of the project, which will cost over £36,500, the pupils were tasked with raising at least £500 each and when James came up with a plan to raise some extra funds he received a ringing endorsement.

After discussing the project with his father, the Caludon Castle pupil discovered his dad's company were about to replace the company's mobile phones. He wrote to the organisation's boss explaining the project and asked if he could have the old phones to sell and raise money for the project.

He said: "I ended up with 126 old phones which I sent off to a mobile phone recycling website and sold them for £1,062!"

The project's five participating secondary schools are twinned with five Ugandan schools and the latest part of the project will see the Coventry ambassadors travel to Kampala in July to organise a Mini Olympics Sports Festival.

"I feel very privileged to be involved with this project, not many people get this type of opportunity," James said.

"To travel to a country completely different to our own and experience their way of life will be amazing and I am looking forward to going out there and helping with the coaching."

James is also a javelin thrower with the Godiva Harriers and is already planning more fundraising events potentially involving the athletics club.

The project links Caludon Castle, Lyng Hall, Stoke Park, Foxford and Westwood School as well as five feeder primary schools Wyken Croft, Stoke Heath, Stoke, Longford and Cannon Park, with five schools in Kampala

Paul Breed, chief executive of Coventry Sports Foundation and Africa Inspires ambassador, said: "James has shown real initiative and we are delighted he was able to raise so much money towards the latest part of the Africa Inspires Project.

"The project is really gathering pace now and it is a fantastic example of what the Olympic Games should be all about – people being inspired to work towards making the world a better place."