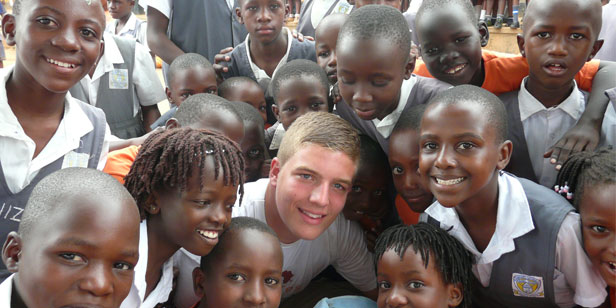 Africa Inspires: Westwood School pupil Sean Harvey meets schoolchildren in Kampala.
A group of teachers and pupils have returned home from an unforgettable trip to Africa where they held a mini-Olympics.
Ten students and ten teachers travelled to Uganda for the latest instalment of Africa Inspires – a London 2012-inspired project led by Coventry Sports Foundation and supported by Coventry City Council's 2012 Games Team.

Africa Inspires aims to establish the provision of sport and PE in schools in the Ugandan capital, Kampala, and supply sustainable means of providing pupils with clean drinking water.

The pupils and teachers from Caludon Castle, Lyng Hall, Stoke Park, Foxford and Westwood Schools flew out to provide a week of sports training at five Ugandan schools twinned with the Coventry schools.

After the sports coaching, around 1,500 children from the five Kampala schools joined together at Makerere University for a mini-Olympics tournament to put their new skills to the test.

Paul Breed, chief executive of Coventry Sports Foundation and Africa Inspires project ambassador, said: "This was a truly unforgettable trip for everyone involved and I have no doubt it has changed the perceptions of many of our young ambassadors.

"The phrase 'life changing experience' is probably overused, but from the feedback I have received from parents, teachers and the pupils themselves the trip has really had a profound effect on them.

"The interest out there was phenomenal, we had Ugandan TV crews, radio stations and thousands of locals there to see what we were doing.

"It went very well and we are extremely thankful to the many organisations that supported this particular initiative and the ongoing work of the project."

The project links the five Coventry secondary schools along with five of their feeder primary schools – Wyken Croft, Stoke Heath, Stoke, Grangehurst and Cannon Park, with the five Kampala schools Nateete, Mutundwe, Kiddawalime, Bright Future and Family Primary.

Now that the student ambassadors and teachers have returned to Coventry, they will start fundraising for the next stage of the project which aims to see them raise £4,000 for water harvesting installations at their twinned schools.

"We hear tales about how hard people work for basic things like education and clean water in these areas, but seeing it first-hand really brings it home and I think it helped many of us to arrive at a better perspective of those things that we sometimes take for granted," said Breed.

"That's why projects like this are so important and, having seen the differences this will make to the lives of many thousands of people, our ambassadors have left Africa more passionate than ever about this project."