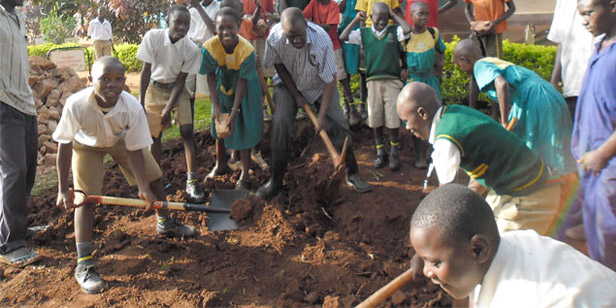 The latest stage of a project which will see hundreds of African schoolchildren given access to clean drinking water has just been completed thanks to the fundraising efforts of Coventry schools.
Westwood School, in Mitchell Avenue, recently received a cheque for £3,000 from Japanese world-leading analytical technology company HORIBA, which has been put towards the construction of a 30,000 litre water tank at Mutundwe School, in Uganda.
It is the first of five water tanks which will be installed at Ugandan schools as part of the Africa Inspires project.
Africa Inspires is a London 2012-inspired project led by Coventry Sports Foundation which aims to establish the provision of sport and PE in schools in the Ugandan capital, Kampala, and supply sustainable means of providing pupils with clean drinking water.

The water tanks will collect water harvested from neighbouring school buildings and will also be connected to the national water supply to ensure that the tank is constantly replenished, even during those drier times when water harvesting would not be sufficient to meet the demands of the 700 children who attend the school.

There is an additional cost associated with drawing water from the national water supply, which is unlikely to be affordable to the schools, calculated at around £400 per year. As such, the Coventry-based twin schools will undertake ongoing annual fundraising to meet these costs.

Paul Breed, chief executive of Coventry Sports Foundation and Africa Inspires project ambassador, said: "Under normal conditions, the national water supply is erratic at best – sometimes operating for only one or two days per week.

"This means children are currently required to fetch water on those days when the national water supply is not functioning.

"Using the water tank as a storage unit as well as a water harvesting facility will ensure that, by replenishing the tank on those days when the National Water Supply is operational, there should always be sufficient water on site for the children and teaching staff."

Westwood School is one of the five Coventry secondary schools linked by the project – along with Caludon Castle, Lyng Hall, Foxford and Stoke Park Secondary School. The project also links five feeder primary schools – Wyken Croft, Stoke Heath, Stoke, Grangehurst and Cannon Park, with five Kampalan schools Nateete, Mutundwe, Kiddawalime, Bright Future and Family Primary.

Stuart Davoile, school sports coordinator at Westwood School, said: "We are extremely thankful to HORIBA for making this latest donation and for being so supportive of the project to date.

"Being a part of this project has given our pupils a great deal of perspective on the world and helped their personal development.

"It will also make a long-lasting and life-changing difference to hundreds of Ugandan children and everyone involved is proud to be a part of it."

For more information about Africa Inspires and pictures from the Mini Olympics Sports Festival visit www.africa-inspires.com.